Content marketers are tasked with providing their audience with a consistent stream of high-quality content. We've written many articles with tips and strategies around how to do it but repeatedly said that without a good content creator, specialized marketing tools and a lot of time, creating content is hard.
Enter content curation.
What is Content Curation?
Content curation is the act of finding, collecting and sharing relevant content online. Properly curated content will benefit and engage your audience through your website, blog, social media, email newsletters, podcasts, and more.
The Benefits of Content Curation
Unless your business model is solely made up of curated content, content curation is generally used in conjunction with content creation for marketing purposes, offering several benefits:
Saves time and money — Creating content is time-consuming and often expensive. Curating content, especially with the right tools, is an effective way to stay relevant and stick to your marketing budget.
Builds consumer trust — Curating and sharing high-quality content demonstrates your industry knowledge.
Keeps your audience engaged and builds brand community — Sharing a consistent stream of engaging content helps to keep your audience involved and works to spark conversation amongst your followers.
Boosts online visibility — Curated content usually contains outgoing links to trusted sites and drives social shares. Both result in content that ranks in search engines.
Builds relationships — Sharing another business' content helps to build relationships within your industry. These relationships can lead to future collaboration and sharing.
Examples of Curated Content
Content curation enables you to highlight and analyze the most relevant content and share it in a number of ways:
Trending Content and News
Sharing on-brand, trending content and news articles not only helps you engage with your audience frequently but also establishes your business' platforms as a place people visit or subscribe to and find the type of content that they are interested in.
For example, Moz, an SEO company, does this well with The Moz Top 10. A semi-monthly email newsletter that they send to subscribers sharing the 10 most valuable articles about SEO and online marketing that they can find.
Interviews
Interviews are a great way to curate content from a thought leader or expert in your industry. Although the topics are often created by you, the information gathered from the interviewee is a prime example of curated content that can be shared on many different platforms.
For example, Casted's podcast is almost exclusively interviews with thought leaders in the B2B marketing space. This has led to a purposefully curated marketing podcast that other businesses and individuals can rely on for relevant marketing content.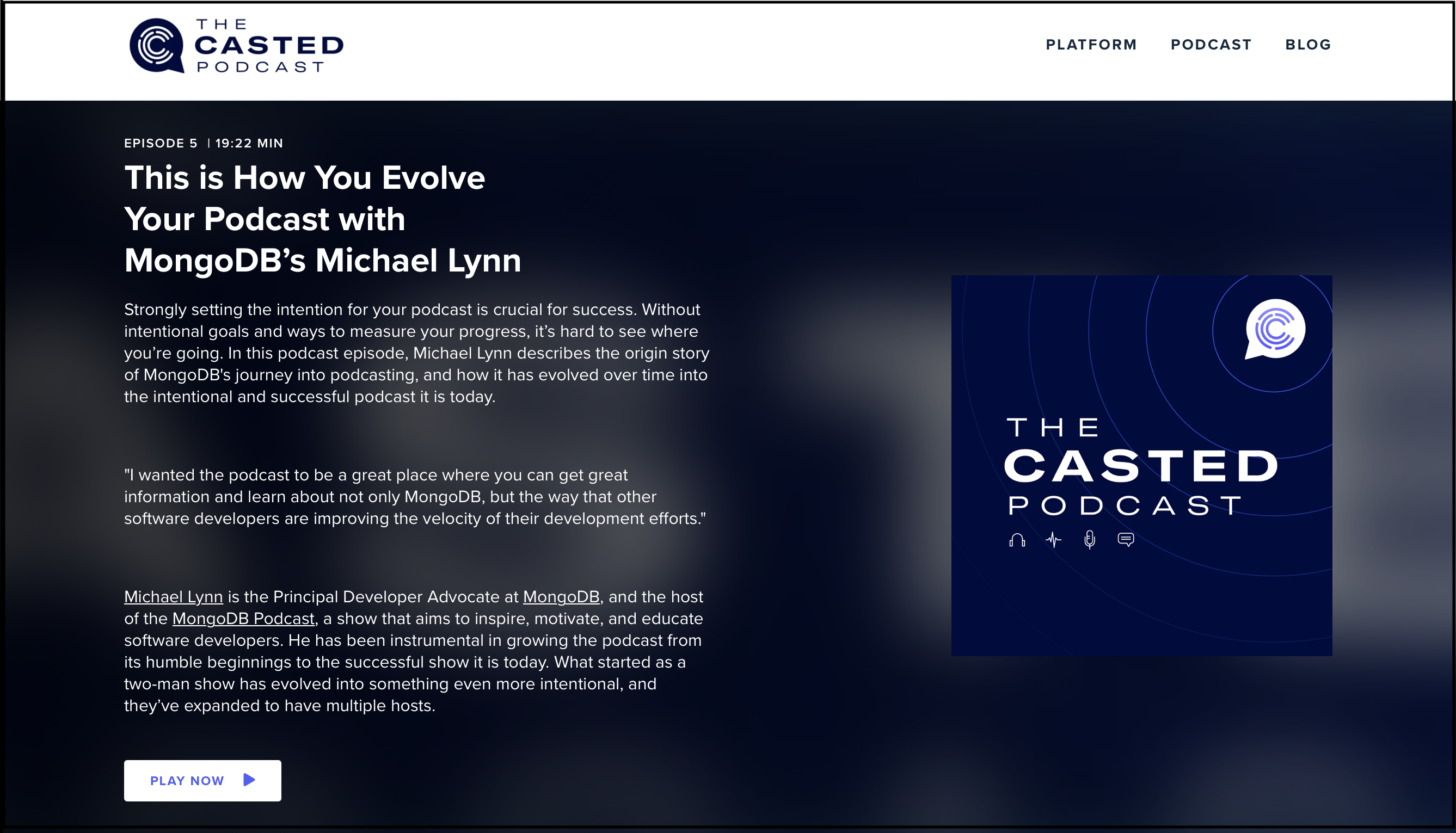 Photos and Videos
Curating photos and resharing them is particularly popular on social media. Brands use user-generated content (UGC) to build authenticity with pictures and videos that help to showcase their product or service in use.
Brands also use pictures and videos found online that aren't UGC to bulk up their social media presence and add to their platforms aesthetically or strategically to benefit their audience.
Adobe does this well on social media by incorporating images (mainly digital artwork) that other users have created using the Adobe platform and shared on their own social media pages.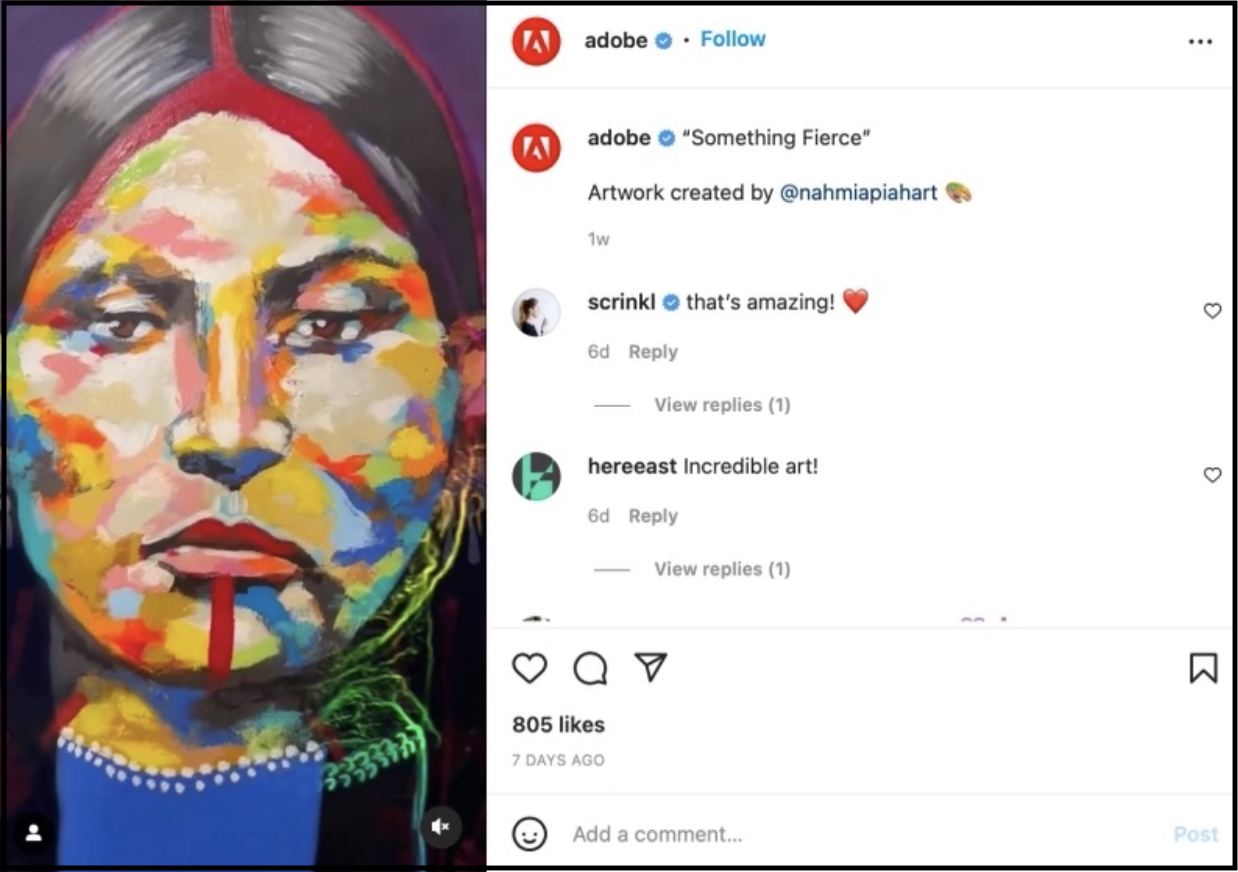 Repurposed Content
Curating content doesn't exclusively have to mean using other people's content. It can also be done by curating your existing content. Content in one format can be broken down and repurposed into another format on a different platform, while also helping to promote the original content.
Casted's CEO and Co-Founder Lindsay Tjepkema is a great example of someone using repurposed content in their online content strategy. In addition to relevant articles, photos, and interviews, she consistently shares blurbs from Casted's blog posts on her Twitter page: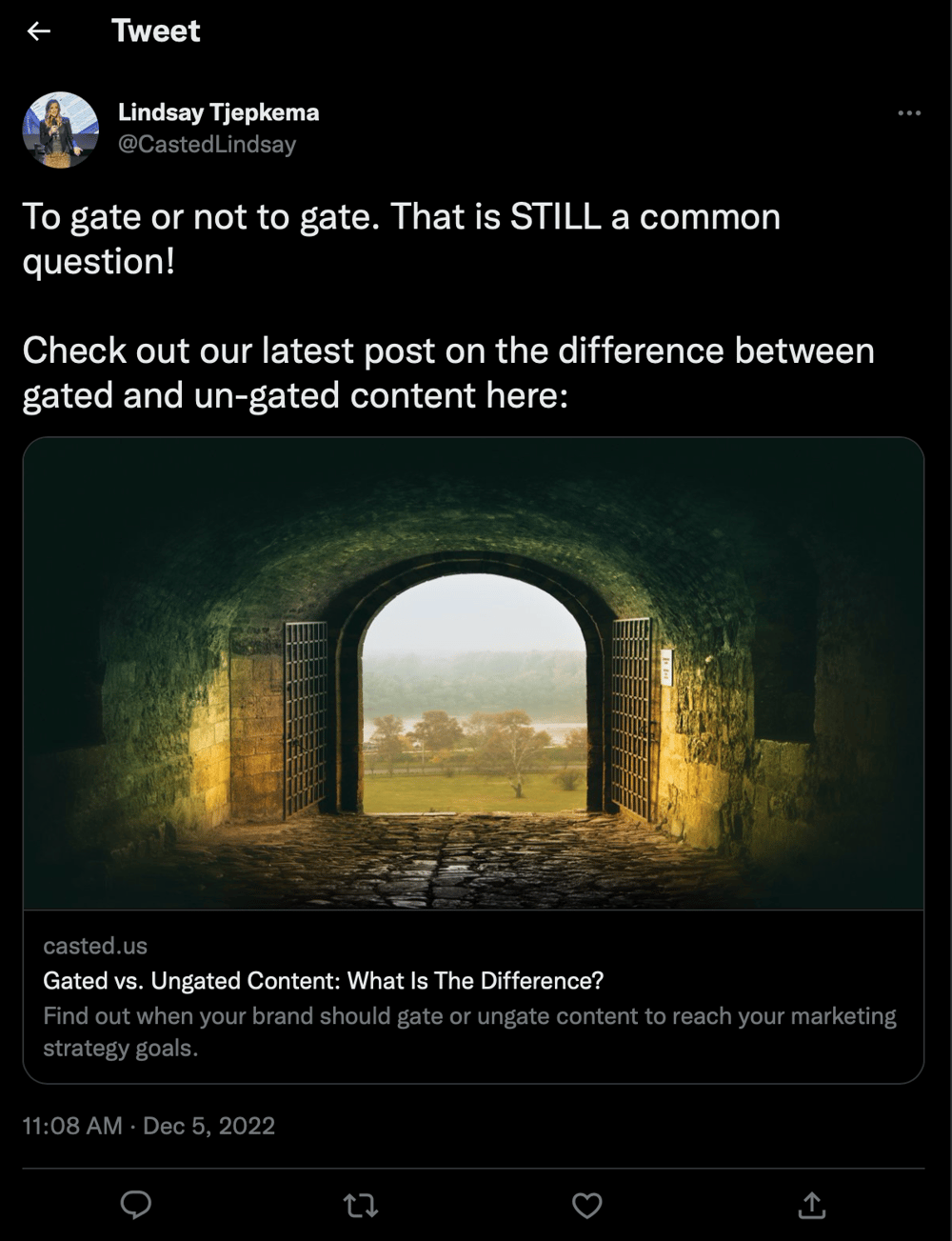 Content Curation Tools
Although often easier than content creation, finding brand-new, high-quality content can be tricky. If you are planning to get into adding curated content to your marketing efforts, there are tools to help with content research by identifying trending topics in your industry.
Google Alerts is an online tool that allows you to monitor the web for specific content. It works by simply typing in the keywords that you are looking for and creating an alert to notify you via email when new content about this topic is added to Google.
Semrush's topic research tool is a topic finder that allows you to input a keyword and a specific country to immediately get thousands of untapped, instant ideas for valuable content.
Feedly is an online tool that allows you to track insights across the web by using their search engine to type in what is important to you. With that, they flag and report back important content from the web, social media sites, newsletters, and more.
In addition to planning and scheduling your already curated posts, Hootsuite allows you to monitor and track specific keywords, social topics, trends, and specific accounts. You can also share this content directly from their stream for quick content curation on your social media platforms.
Conclusion
Content curation is a marketing strategy used to add value and variety to your content marketing efforts. When used correctly (i.e., reliable sources, thought leaders' posts, relevant information), it is an efficient way to keep your audience engaged.
Whether incorporating trending content or relevant news articles on your Twitter page, interviewing thought leaders on your podcast, sprinkling in user-generated images on your Instagram, or repurposing your own content on all of your digital platforms, there are many tools to help you incorporate content curation to your content marketing strategy.
For more information on how Casted's platform can help with your content curation goals, request a demo today.