Compared to other marketing channels,
B2B podcasts
are quickly becoming one of the biggest drivers of business growth. They show up more consistently as a touchpoint in lead generation and nurturing, and for a SaaS startup, podcasts are the most effective way to make your audience aware of who your brand is and how you can help solve a pain point.
But a podcast is a longer marketing play than paid ads, social media, and written content. It doesn't help that podcast metrics are either basic (downloads and subscribers) or difficult to measure. However, more marketers and salespeople are seeing a podcast's impact on getting customers into a brand's funnel.
In a recent episode of The Casted Podcast, Jim Gilkey, Senior Account Executive at Terminus and host of the Account Based Beverages podcast, shared two examples of how powerful podcasts can be in the sales cycle. In one case, the company wanted to clarify the "attribution mirage" around podcasting, started asking how leads had heard about the brand, and found that 52.94% of their deals were coming through their show. In the other case, the company leveraged call-recording software to compare the number of leads that mentioned engaging with the brand's podcast vs. those who didn't and found that their win rate doubled when a podcast was part of the sales cycle.
If your brand has contemplated launching a show or if you already have an existing podcast that you want to tweak for even better overall business growth, Casted can help make your show a manageable process even if you have a small team. Even better, Casted has the analytics you need to fuel your overall growth strategy, including connecting with your ideal customer, driving lead generation, and nurturing valuable relationships all by creating, distributing, and measuring your podcast.
How Casted and Podcasting Help You Grow Your Business
The Casted platform was built by B2B marketers to enable B2B marketers to grow their businesses with podcasting. We set out to make podcasting and the marketing impact associated with the channel easier to manage, promote, and track.
Why? Because at this particular point in the evolution of digital marketing, 43% of decision makers increasingly utilize podcasts more than other marketing channels to learn about how brands can solve their pain points and help grow their businesses.
Unlike other kinds of content, podcasts also have a much longer shelf life which better serves a long buying cycle (typically 12 to 18 months). Plus podcasts are easier and quicker to consume than reading a blog or a whitepaper and therefore tend to be a go-to source of information for business leaders.
Yet many brands are wary of launching a show, or if they do produce a podcast, the show fades out after one or two seasons because the brand isn't sure if the investment is actually driving growth.
Let's take a look at how Casted can help you manage and prove how your show contributes to overall brand growth.
Easy-to-Use Platform for Publishing Podcasts
Content marketers are pressed for time on a daily basis (or hourly, depending on who you ask), and they need a logical and fairly simple way to manage publishing and distributing their podcast or video series so they can still do all the other things on their to-do list. With Casted, a single person at your company can efficiently manage your show(s) and keep the cadence and look and feel consistent.
Uploading and Distributing Podcast Content
Whether you're running a single podcast or multiple shows, whether you produce a video or audio-only podcast, adding and managing content in Casted is as easy as clicking a button, and you can automatically distribute your show to major podcast platforms (like Apple Podcasts and Spotify), YouTube (especially for video podcasts but also for audio-only), and the Casted landing page on your brand's website. By default, the Casted platform will use the audio file from your audio or video episode for distribution to the all-important RSS feed, but you can choose to upload a different audio file if you like.
Editing Content
Once your episode is uploaded, you have a great deal of editing capabilities to fine-tune your show's information, including:
Episode Title: This title will be displayed on Casted landing pages, Casted players, and podcast platforms.
Episode Type: Choose from Full, Trailer, or Bonus episode types.
Season and Episode: Here's where you can manage your seasons and episode conventions and how they display wherever your podcast is available.
Episode Description: This is the main area where you can provide an informative and SEO-friendly description of what your episode is about. Typically, the description includes the topic(s) discussed, guest information, and the key takeaways from that episode.

Meta and Search Results: This area influences how your content shows up on search engine results pages (SERPs).
Show Notes: Similar to the Episode Description, this area lets you add a different description for the episode. It's also the copy that will appear on your series and episode pages (and is a good place to remind your audience to subscribe).
Social Card Description: Choose how your show is described in preview cards when sharing your content on other platforms.
Episode Guests: Manage how you display your guest information on your episode page, including name, job title, company, contact link, and a headshot.
Resource Area: You can add any related resources you want to appear on your episode page, including company websites, podcasts and video series, and other relevant content like books, blogs, and ebooks.
Episode Thumbnail: This is usually the main image you use for your show, but you can customize it as well. Even though not all podcast platforms will pick up the thumbnail, the image is displayed on the Casted player, Casted landing pages, and Spotify.
Episode Tags: While tags are optional and don't impact your players or pages, you can use them to organize, search, and filter your podcast content.
Publishing Content
You can publish your episode instantly to your Casted landing page and your RSS feed, automatically populating on any platforms you've syndicated your RSS feed to. You also have the options to schedule when you want the episode to go live and to publish the content as private and only accessible from a direct link. For example, brands use the private setting for content they want to share internally but do not want to appear on the landing page or RSS feed.
Promoting Podcast Across Other Marketing Channels
A survey from The Podcast Host found that the biggest problem podcasters have is how to best promote their shows, with 47% saying this is where they get stuck.
Two things in the Casted platform make amplifying your content easier than you think. The first is the transcript you get for every episode, which is super important for searchability and can be displayed on your episode page and linked to within blogs, social media, email, etc.
The second thing is the ability to simply create and embed your entire episode player and/or short snackable clips from the episode. Many of our customers have leveraged these clips to directly drive lead generation and nurturing, conversion, and ultimately brand growth.
Transcript Management
As the foundation of creating promotional content, transcripts are automatically generated when you upload content to Casted. You have two kinds of transcription to choose from:
Premium transcription: A human actually listens to and edits your content = 98-99% accuracy.

AI transcription: A bot does the work = 65-70% accuracy.
Regardless of the transcription you choose, you can also easily edit your transcripts for accuracy, manage host and guest names, and ensure the transcript appears on your episode landing page and within embedded web players.
Creating Player Embeds and Clips
Casted enables you to choose from five styles of embedded players that contain the entire episode. When you click the Share button, you can choose to link to the full episode (for example, in email or social media) or generate an embed code so you can place the episode player in other content (for example, blogs).
You can also quickly create short clips in Casted and use those to amplify your podcast content across all your marketing channels. You have two ways to select the content you want to clip: 1) Directly select the text inside the transcript, or 2) use the waveform across the bottom of the screen to select the time stamps you'd like.
After you've selected the content, you can choose a clip name or description, as well as tags for organizing your content around topics. You can also display the clip as a takeaway in your episode player so that visitors can quickly see what the key topics are in that episode. Simplifying content creation, you can create and edit as many clips as you like and use these audiograms and videograms to amplify your podcast content across blogs, social media, email, and paid ads.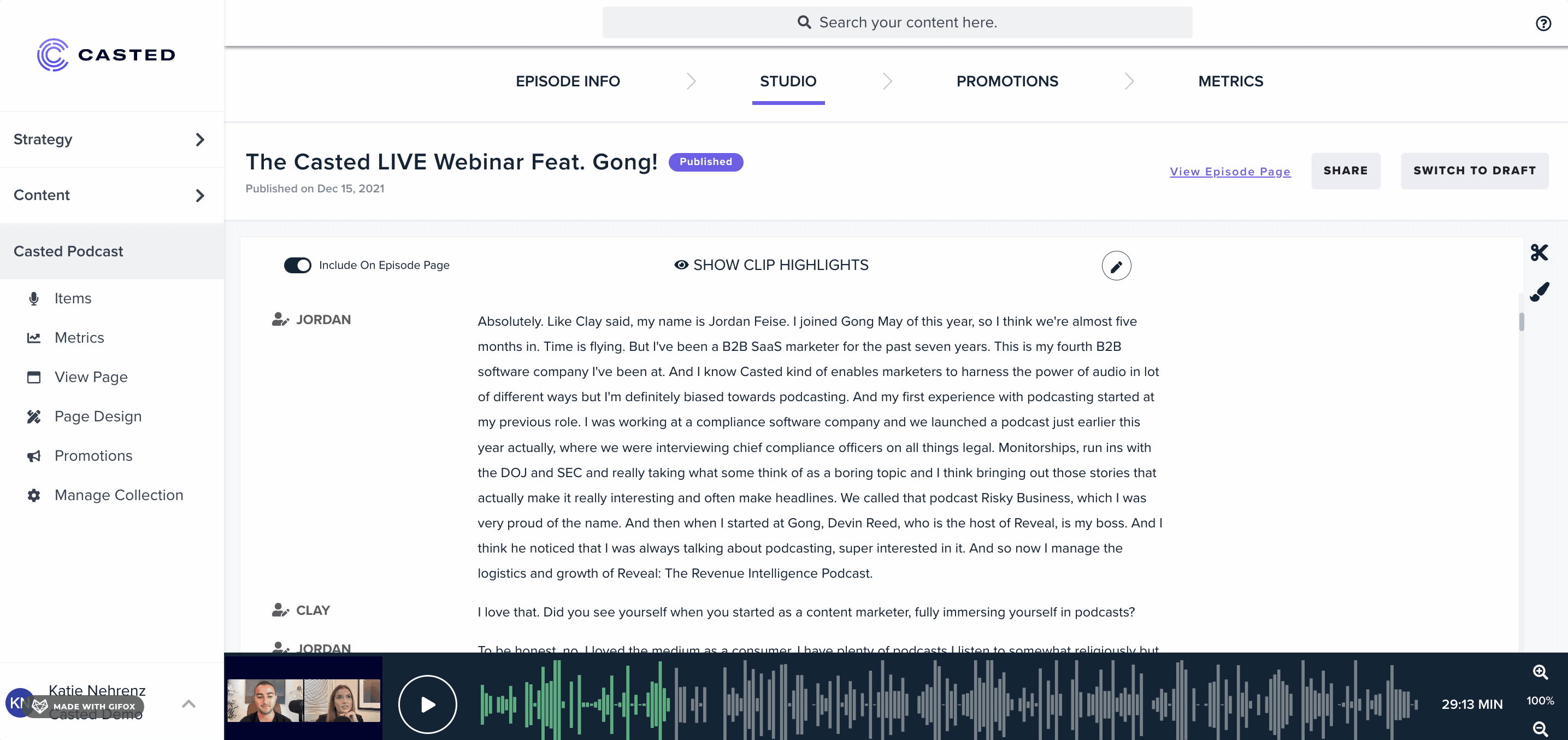 Podcast Performance and Engagement Analytics
Like a podcast, a B2B growth strategy has to have metrics to ensure it's working, and that's where Casted can help you know your audience like never before — and that's not just your show's audience but your brand's audience and the ideal customers you want to build relationships with.
Performance Metrics
Casted's performance analytics (something we call Insights) give you a better look at who's listening to and viewing your podcast than merely tracking downloads and subscriptions, including the following information:

Total Audience: This basic metric measures downloads, which in turn measure engagement on your RSS feeds. Total Audience also measures plays on any Casted player, which gives you more information, like length of engagement and whether this was a new or a returning audience member.
Unique Audience: This is a calculated or estimated metric, but when measuring plays on a Casted player, you can identify which plays came from a single individual.
New Audience: This shows how many people in your audience engaged with your content (on Casted pages or embedded players) during a particular time frame.
Returning Audience: This shows how many people in your audience engaged with your content (on Casted pages or embedded players) more than once during a particular time frame.
Total Impressions: Comprising three data points, total impressions metrics include downloads, plays, and visits. Here visits occur when anyone visits a page that any Casted player (including embeds and playlists) is present on but does not actually play the content.
Total Audience Likes: This shows how many people clicked the Like button on Casted pages or embedded players.
Total Audience Shares: This shows how many people in your audience clicked the Share button on Casted pages or embedded players.
Average Completion Time: The completion percentage is determined by taking the average length of engagement (based on plays on Casted pages or embedded players) in a particular time frame and comparing it with the total length of the content.
These are all great basic podcast performance metrics that give you a better idea than downloads alone about how engaging your show episodes are and how big your audience is, but Casted takes these performance metrics a few steps further with firmographic engagement metrics that enable you to know which brands are in your audience and listening to or viewing your show.
Engagement Metrics
Within Insights, the Audience Table presents a wealth of information about the brands listening to or viewing your podcast. Regardless of whether they come to your show through a web player on your site or one of the major podcasting apps and platforms, you can see how your podcast content resonates with your audience and how it ultimately impacts business growth.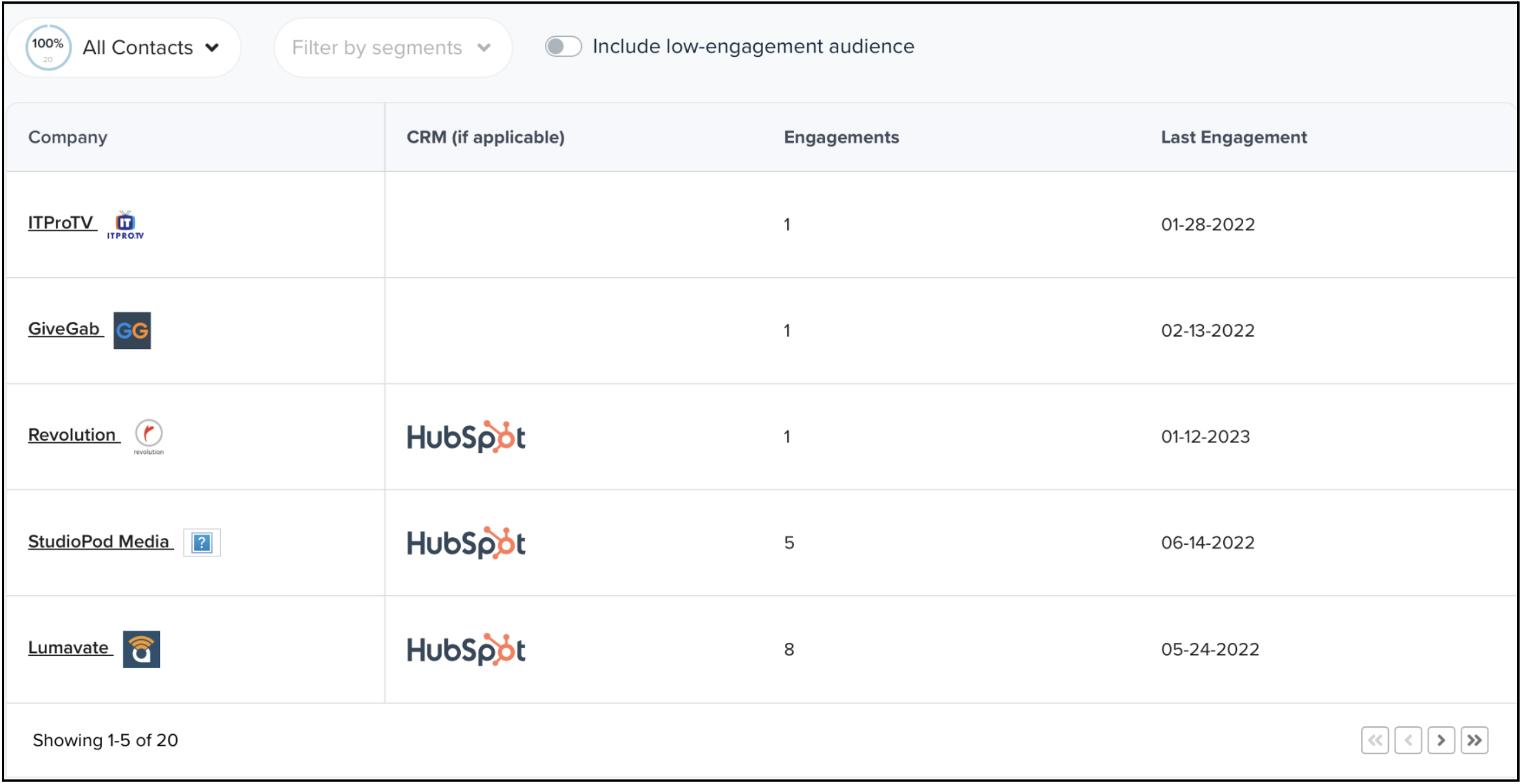 Here you can see who's engaging as follows:
Company: The name of the company associated with the engagement data.
CRM: If you have integrated Casted with a CRM, this column indicates if a member of that company was matched with a known contact record.
Engagements: The number of times this company has listened to or watched your content within the selected date range.
Last Engagement: The last date that this company listened to or watched your content within the selected date range.
You can also drill down a little further by clicking the company name in the Audience Table. This reveals the Company Profile and deeper insights into how and what this particular brand is engaging with.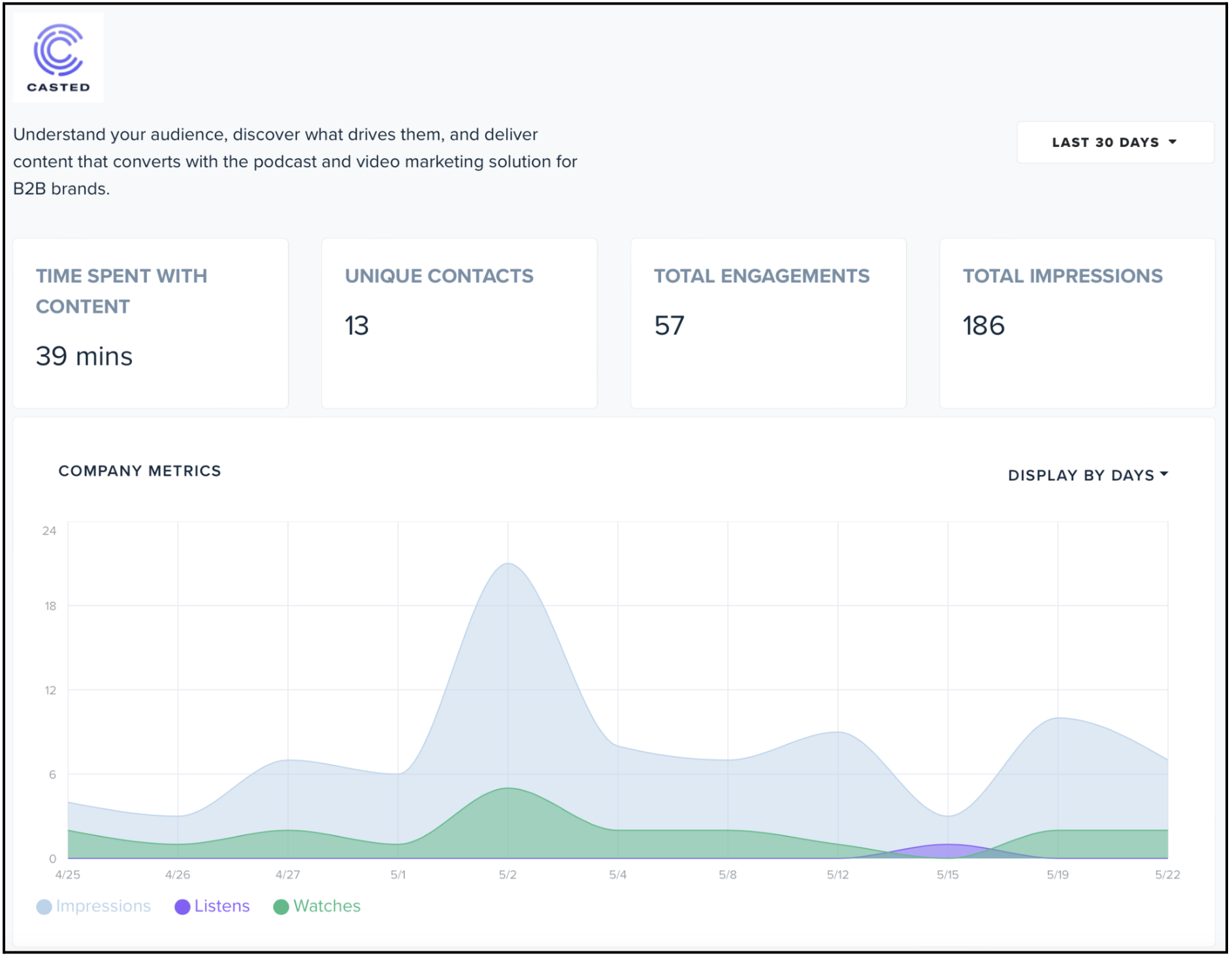 The Company Profile uncovers the following valuable data and information:
A brief summary of who the company is and what they do.

The date range defaults to the last 30 days, but you can customize it to any range you want in the dropdown menu.

Time Spent with Content: How long the audience associated with this company listened to or watched your content within the selected date range.
Unique Contacts: How many individuals from this company engaged with your content, no matter how many times they engaged in a single session or how many times they returned within the date range.
Total Engagements: The number of downloads and plays from the company within the date range.
Total Impressions: The number of downloads, plays, and visits from the company within the date range.
Company Metrics: This chart helps visualize this particular company's engagement, showing Impressions, Listens, and Watches over the selected date range.
When you put together all of these capabilities and analytics available inside Casted, you can now see potential leads better and use relevant podcast content to begin outreach. In this way, your podcast, whether you leverage it for brand awareness or thought leadership, becomes the engine driving your overall business growth strategy.
Strategies for Growing Your Brand with Your Podcast
So how can a podcast drive B2B growth strategy? Let's hear from an expert on the subject.
On a recent episode of The Casted Podcast, Stijn Hendrikse, entrepreneur, author of the super-effective go-to-market playbook T2D3.pro, and marketing expert with extensive experience in growing SaaS startups, shares his tips on building solid B2B growth strategies that help brands create scalable funnels for their businesses. And he firmly believes that podcasts are the best way for a founder, owner, or executive leader to hit growth goals.
Thought Leadership Should Come from Leadership on Your Podcast
"Thought leadership for me is actually relatively straightforward," Stijn says. "Something much more practical than a big vision or a very bold idea. It's about raising the bar, changing the narrative into something that your audience really cares for, a problem that they're not able to solve on their own. And if you as a founder [are] ready to found a company and hire people and to build a product, you better make sure that you're ready to take a stand, to put yourself out there and say, 'We think this can be done better. We think this can be done different.' And that's, by the way, where podcasts are a fantastic litmus test [in] the early stage of fast-growing small companies to see if the founder, the owner, the executives are able to articulate that. Are they able to really answer questions that nobody else is really answering or in a new way?"
Podcasting Is the Best Channel for Startup Brand Awareness
"In a podcast, you can really articulate not only the higher value and the purpose behind doing something or investing in something or spending money on a certain product," Stijn says. "But you also get to why is the way that you do that special, the features, the capabilities, the positioning if you will, the competitive differentiation. And so how is it that you do this special?
"...Low fidelity content is a blog, you can skim it. Books, you can scan it a little bit, but you don't necessarily have to really engage with the content at a deep level. But when you listen to music or you listen to a podcast… And because podcast is high fidelity, you cannot really fast-forward, you will miss part of the content. You cannot scan it."
Supported by a BBC report, organizations with branded podcasts achieve 89% higher brand awareness than those who don't have a show.
Podcast Content Must Be Relevant, Share Stories, and Be Influenced by Your Audience
"If you and I work on a podcast or any other company that's not maybe a Fortune 500 brand, you need to be very relevant," Stijn advises. "A trick that I've used that I've always coached people on is, every day that you work with your clients, with your audience, they're asking you questions or they're telling you stories. And out of those, if you at the end of the day can distill one question that you heard, that when you type it into Google or these days, ChatGPT, you don't get a clear answer, that's an opportunity for you to write about or to cast about."
Improve Your Podcast Performance Based on Audience Engagement and Feedback
"We started to get questions from listeners or from people who followed our content around very specific topics that we just couldn't get to in the podcast because they would take longer than 10, 15 minutes of conversation, Stijn explains. "So we started to do a… deep-dive set of episodes, and that for me was a great metric too. How often do people ask for those things? And then can you produce those, and do people actually listen? So that would be an ultimate quality metric of real engagement."
Podcasts as a Source of Amplifiable Content and Driver of Brand Growth
"You don't need anything more than an iPhone to start recording," Stijn points out. "So there's no other friction, but you have to decide is this worth my time? And then if you think of a podcast being a medium that can be repurposed and reused to reach so many more people, to be able to learn from the feedback that you get on the content, right? Whether people actually engage with it or not, it's so scalable. Right? The ROI is so easy to envision."
Stijn is a leader who thinks less about audience metrics, engagement, and listener behavior as success signals and focuses more on what your brand cares about and matching that up with what your audience cares about. If those two perspectives match up, that's one of those intangible metrics of success that Stijn has leveraged throughout his career.
B2B Podcasting Is a Business Growth Strategy
Podcasts are absolutely a growth strategy for any business, and they're particularly effective for a startup. But we know it can also be an intimidating venture for some brands.
Let us take the intimidation out of your B2B podcast. With our easy-to-use platform, you can control the look and feel of your show, simply manage publishing and distribution, create a ton of repurposed content to amplify your show, and track performance. But more importantly, Casted's analytics can make your podcast or video series a true driver of your brand's overall growth strategy.
And if you're the Founder, CEO, President, Owner, or CMO of your company, Casted can help you own your branded podcast and leverage it to meet your business goals.