Last week, you may have celebrated Earth Day and Arbor Day by getting outside or planting a tree. If you remember learning about these holidays in school, one of the main tenets of caring for the Earth is using resources wisely. But across the planet, many modern cultures practice wastefulness — not using materials to their full potential or throwing them out before it's time.
As podcasters, we do this too.
We're so focused on getting another show out the door that we forget to squeeze the most juice out of every episode we produce. But if we really wanted our podcast success metrics to soar, we would invest more time promoting each episode to glean the highest ROI instead of moving on to the next thing.
Enter podcasting's most precious natural resource: transcripts.
The Benefits of Transcribing Your Podcast
Providing transcripts is not only another convenient way for fans to consume your content, but it also benefits your brand with:
Improved SEO. Google can now parse verbal content

— but only if they use the word "podcast" in their search (for now). So providing a full transcript with important keywords will boost your episode's searchability.

Thought leadership. If you're sharing your best content

(think groundbreaking and quote-worthy tidbits), you can position your company as invaluable go-tos.

Accessibility for all listeners. Not everyone can consume podcasts the same way. Transcripts allow the deaf, those with hearing disorders, and non-native speakers to consume content in their own way.
Backlinks. Sometimes, it's easier to link back to a transcribed podcast. Plus, skimmers can go directly to the content they're interested in instead of listening to the whole episode.
"As podcasters, we often have this very natural, understandable inclination to focus on the latest thing, newest thing, shiniest thing," says Dan Misener, Head of Strategy and Audience Development at Pacific Content. "We often don't spend as much time thinking about the back catalog. When you make really high-quality shows…[with] a shelf life that isn't going to expire quickly...you can continue to deliver very meaningful results."
Here are a few ideas for how you can use transcripts to help each episode reach its full potential.
Publish Full Transcripts
Posting full transcripts of each episode allows you to easily create and distribute written content using the episodes you've already worked hard to produce. No additional content planning; no hiring a blog writer.
Of course, you may want to do a little editing before you post, like cleaning up misspelled words and unintelligible speak. You can also format the transcript for the easiest digestibility — like how This American Life breaks content into acts and identifies who the speaker is with bold text: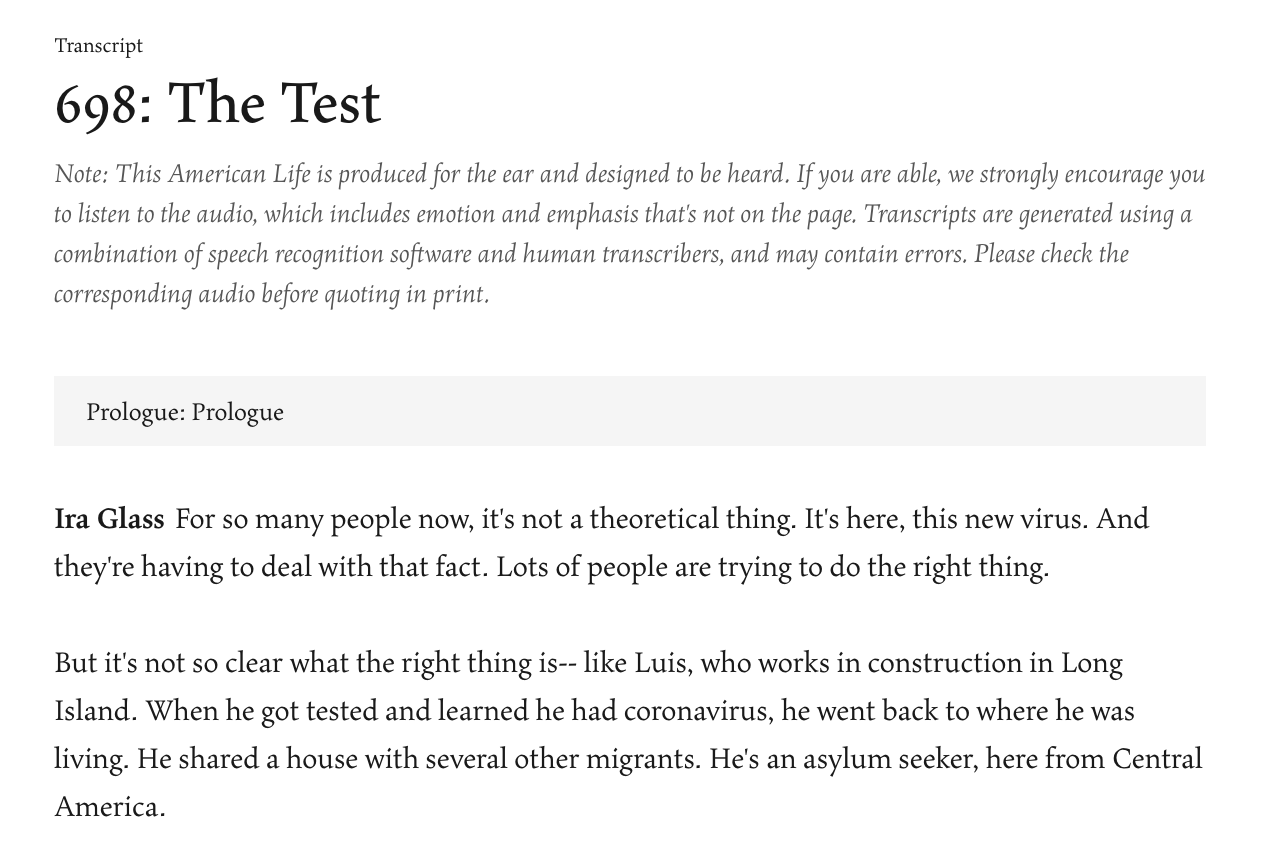 Distribute Transcript Snippets in Other Mediums
Want even more content mileage? Instead of publishing an entire transcript verbatim, break down each episode into topics and create a blog post around each one. This way, you'll create more searchable content and will get even greater longevity out of the original episode.
Blogs allow you to dish up even deeper content to your audience, giving you additional resources for use in emails, ad campaigns, and future podcasts. Honing in on individual topics also invites further discussion, deeper analysis, and greater differentiation between you and other shows.
The team at The Georgian Impact podcast also uses transcripts to break their show down into audiograms and social media snippets for promoting traffic back to the episode. Hear David Poole, Director of Marketing at Georgian Partners, outline their six-step process:
Identify Trending Topics for Content
Want your podcast to be a trendsetter? Written content gives you another outlet to track engagement, allowing you to identify popular topics and, in turn, create more content around that subject. In addition to analyzing your podcast listening metrics, check your transcript webpage for views and reader comments to see what's sticking. If a topic or theme seems to resonate more often, it's probably something your audience is interested in. Brainstorm similar topics or dig deeper in the next episode to keep the momentum going.
Most of all, keep in close contact with your audience to truly understand what they want, including topics they're hungry for, show format preferences, and desirable guests.
Maximize Your Podcast, Word for Word
If you're not transcribing your podcasts, you're not getting the most value out of each show you produce. Even if you are transcribing each episode, perhaps there's more you could be doing with those golden content nuggets nestled inside the transcription. Cure podcast wastefulness by activating your transcripts for the highest searchability, listener engagement, and credit for your brand as possible.
There are tons of transcription services available today. But Casted lets you take your podcast content further with tools to search, categorize, share on social media, and track its success — easily and automatically. Let the content you work so hard to create truly shine, and finally realize the higher ROI your podcast deserves. Send us a quick note to see the Casted platform in action!